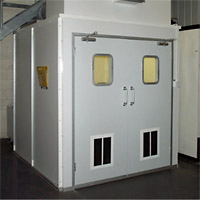 Powder Control Booth external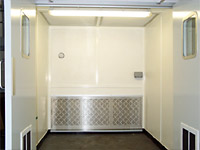 Powder Control Booth internal


Options

Variety of sizes/arrangements available

HEPA filter pressure gauge

ULPA filter for ultra clean air

Power supplies inside booth

Mechanical services located inside booth

Mobile unit mounted on lockable castors

Spares

Exhaust fans within unit

On site installation

On site performance certification

Routine maintenance/certification

Activate carbon or particulate filters on exhaust

Complete ducted exhaust system



GIVES YOU A CLEAN ENCLOSURE WITH PARTIAL OR FULL EXHAUST FOR SAFE POWDER HANDLING.

Powder control booths are critical when handling harmful or unstable substances that must be treated with great care, providing an enclosure so that risk is minimized.
Construction


Plastic laminated MDF / stainless steel / polypropylene

Standard in white

Demountable for delivery and ease of handling

PVC curtain surround, either strip or continuous



Filtration


Foam plastic pre-filter protects HEPA filter

Supply HEPA filter 99.997% efficiency

Protective grille over HEPA filter



Airflow


0.30 m/s &plusmn 0.05 m/s face velocity

Direct driven forward curved centrifugal fans

Variable speed control



Electrical


Supply 220/240V 50Hz 1 Phase

Illumination within booths


Seperate arrangements must be made to ensure that replacement air can enter the room. CRC can provide this additional facility.
All equipment produced is tested prior to dispatch, sent in protective packaging and covered by a 12 month warranty from dispatch date. Operation and maintenance instructions are supplied with installation.
If you need assistance in chosing the best equipment selection for your requirements, please do not hesitate to contact us.