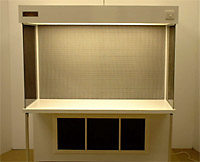 HSB 90-150 workstation, black HEPA face guard, with smokey acrylic side screens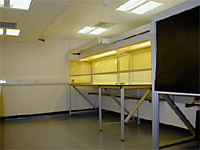 Twin HSB 60-180 Special slim line unit, easily demountable with UV safe lighting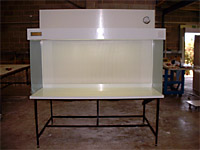 HBA 60-150 bench mounted workstation with magnahelic gauge and canopy lights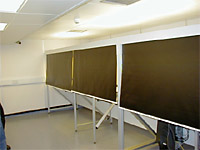 Twin HSB 60-180 Special slim line unit, with black out blinds in position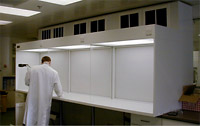 3 x HBA units bench mounted in tandem, one extract, two supply air

Click here for specifications
OPTIONAL


HEPA filter pressure gauge

ULPA filter for ultra clean air

Polypropylene construction

Alternative workshop surfaces

Stainless steel construction

UV/safe lighting keyswitch operated

Roller blind night seal

Switchable half fan speed

Reverse flow for operator protection

On site performance certification

Routine maintenance/certification

Spares



HORIZONTAL CLEAN AIR MODULES GIVE YOU A FREESTANDING, RELOCATABLE CLEAN ENVIROMENT.
CONSTRUCTION


MDF with all exposed surfaces finished in PVCu plastic laminate

Clear acrylic screens

Standard in white PVCu laminate

Demountable for delivery

Castors



FILTRATION


Foam plastic pre-filter protects HEPA filter

HEPA filter 99.997% efficiency

Protective grille over HEPA filter



AIRFLOW


0.45 m/s ± 0.1 m/s face velocity, at 100mm from filter face

Direct driven forward curved centrifugal fan

Variable speed control



ELECTRICAL


Supply 220/240V, 50Hz, 1 Phase

Illumination 1000 lux approximately bench level

On/Off switch fan

On/Off switch lights



ALL PRODUCTS


Pre-delivery performance certified

User maintenance instructions

12 month parts warranty from despatch
All equipment produced is tested prior to dispatch, sent in protective packaging and covered by a 12 month warranty from dispatch date. Operation and maintenance instructions are supplied with installation.
If you need assistance in chosing the best equipment selection for your requirements, please do not hesitate to contact us.