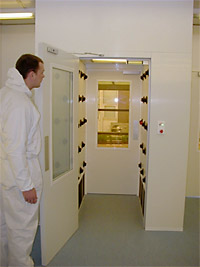 Single air shower (2 modules)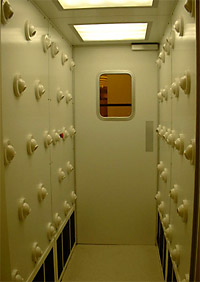 Double air shower (4 modules)
OPTIONAL


Dimensions to individual requirements

Double/single door entry

Sliding door - automatic or manual

Automatic personnel detection

Trolley guide rails/stops

Custom programming

Slot or Punkah nozzle air diffusers

Air purge facility

Stainless steel construction/lined

Polypropelene construction/lined

Automatic personnel turntable

Various configurations

Traffic light indicators

On site installation

On site performance certification

Routine maintenance/certification

Spares



GIVES YOU TIMED HIGH VELOCITY CLEAN AIR IMPINGMENT BEFORE ENTRY TO CLEAN ZONES.

CONSTRUCTION
Generally the air showers would be supplied in five major component parts, and are sized generally for use by an individual or by two people simultaneously. Fan filter units compete with punkah nozzles and one of which is including controls, topbox complete with integeral lighting, and two doorsets.

Each unit would be constructed from MDF board laminated with white PVCu. Within each of the fan/filter units there would be mounted a single phase direct drive single inlet centrifugal fan. The HEPA filters would also be mounted within these sections for supply of clean air to the Punkah nozzles. The return air passes through pre-filter grilles as a return back to the fan plenum. Electrically locked doors would be mounted to each end of the unit on assembly at site.

FANS
The fan selected for this duty is a multivane forward curved unit with a single phase, 2 pole direct drive motor. The inlet would be guarded and the outlet connected to the positive filter plenum.

FILTERS
Pre-filter grilles would be mounted at low level on the return air plenums within the unit each utilising a 30 ppi washable polyurethane foam to give the HEPA filter extended life.

The HEPA filters themselves would be nominally 762mm x 1525mm of a grade giving an efficiency of 99.997% at 0.3 microns. HEPA filter cases would be manufactured from extruded aluminium section complete with closed cell polyurethane foam gasket. The HEPA filters may be integrity tested and scanned by removal of the punkah nozzle housing panels.

LIGHTING
Fluorescent tubes would be mounted within a self contained light module fabricated from powder coated mild steel using prismatic diffuser and giving an approximate light intensity within the unit of 600 lux. The facility to have these with emergency back up packs can be incorporated.

CONTROLS AND INSTRUMENTATION
Each door would contain a proximity switch to enable a feed back to the control system indicating whether the door was open or shut. Each door also has an electro-magnetic locking mechanism.

Electrical supply to each air shower would need to be 240 volt, single phase, 50 Hz, rated at 10 amps.

PUNKAH NOZZLES
Each air shower wall would be fitted with Punkah nozzles, thus giving good jet coverage. The air system has been sized such that each Punkah nozzle would handle 81M3/hr of filtered air at an average velocity of 25m/s at the nozzle discharge during the shower cycle. This enables a large majority of surface particles to be dislodged from cleanroom garments and assists greatly in maintaining the integrity of your process and the quality of your facility.
CONSTRUCTION


MDF with all exposed surfaces finished in plastic laminate

Standard in white



FILTRATION


Foam plastic pre-filter protects HEPA filter

HEPA filter 99.997% efficiency



AIRFLOW


15 to 30 m/s nozzle velocity to suit requirements

Direct driven forward curved centrifugal fans

Variable speed control



ELECTRICAL


Supply 240V-1 Phase / 440V-3 Phase

Inbuilt illumination

Electric interlocking doors with emergency fail safe and override

PLC controlled



ALL PRODUCTS


Pre-delivery performance certified

User maintenance instructions

12 month parts warranty from despatch
All equipment produced is tested prior to dispatch, sent in protective packaging and covered by a 12 month warranty from dispatch date. Operation and maintenance instructions are supplied with installation.
If you need assistance in chosing the best equipment selection for your requirements, please do not hesitate to contact us.