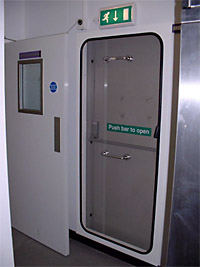 White powder coated, clean side view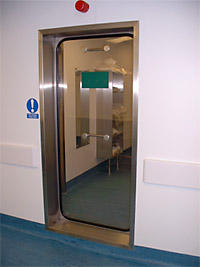 Stainless steel option, dirty side view


OPTIONAL


Coloured / Smoked acrylic panel

Solid panel of white trespa

Solid panel of white trespa c/w Vision Panel



EMERGENCY ESCAPE PANELS PROVIDE A QUICK EXIT SHOULD AN AREA BECOME HAZARDOUS TO HUMANS.

DESCRIPTION
Designed to give ease of egress under emergency conditions the CRC escape panel is maintenance free, easy to clean and aesthetically pleasing. Various options are available for both the frame finish and removable panel. Frames are available in 316 stainless steel, 304 stainless steel and zintec, powder coated to any standard RAL specification with a 50/50 mix of polyester and epoxy powder, giving good colour fastness and chemical resistance. Each unit comes complete with all necessary fixings and ironmongery for a fast, efficient, and clean installation.

The standard external size of the panel frame is 944mm wide x 1944mm high (this would normally be set up from the floor by 100mm to allow for room coving). The structural opening size required is 884mm wide x 1884mm high set 130mm up from the floor. The unit gives a clear opening when the panel is released of 760mm wide x 1760mm high. The finished wall thickness can be from 50mm, this will need to be specified to CRC at time of order.

The base model has a frame manufactured from zintec and powder coated to RAL 9010 (white) and fitted with a clear acrylic escape panel. The panels come complete with pull handles and release system inserts and handle.


All equipment produced is tested prior to dispatch, sent in protective packaging and covered by a 12 month warranty from dispatch date. Operation and maintenance instructions are supplied with installation.
If you need assistance in chosing the best equipment selection for your requirements, please do not hesitate to contact us.