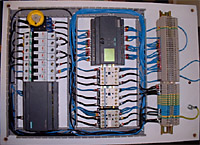 Door interlock panel – PLC controlling access thro' 6 No. doorsets


OPTIONAL


Indication only option (not physically locked)

Red/Green LED traffic light indicators to confirm system status

Audible alarm option if indication only option

Fire alarm and failsafe control interface



BESPOKE PRODUCED DOOR INTERLOCKING SYSTEM, BUILT ENTIRELY TO YOUR NEEDS.

Door access control is simple with our system being easily programmed and expandable to suit changing requirements. All component parts are easily identifiable and replaceable by a qualified electrician or technician.
All equipment produced is tested prior to dispatch, sent in protective packaging and covered by a 12 month warranty from dispatch date. Operation and maintenance instructions are supplied with installation.
If you need assistance in chosing the best equipment selection for your requirements, please do not hesitate to contact us.